Our system makes ordering fast, easy and accurate.
Give us the style, laminate choice and cab dimensions and you will receive a quote back from a representative within 24 hours. All of this can be done online in minutes. Best of all, most orders ship within 10 - 15 business days. We also supply ceilings, handrails and protective pads. If our stock selections meet your needs, great; but remember we use all the major laminate and veneer companies, so your selection is not limited. Take a few minutes to visit our EZ Order section and let us quote your next project today.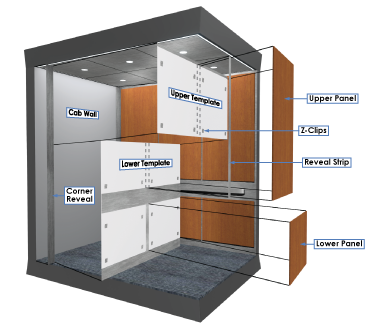 An Cab install starts with an Template System.
Designed with the first time installer in mind.

Visual step-by-step instructions.

Set of approval drawings provided for visual representation of cab interior.

Permanent template attaches to the cab shell with all reveals and clips pre-applied.

All clips are pre-applied to the panels prior to shipping as well.

Unlimited design options. The template allows for vertical and horizontal panel designs.

Easily exchange a panel that is damaged or vandalized without removing other panels from the wall.

Lightweight options available.

Most measuring and cutting done by LWI before cab interior is shipped.

Just level it, center it, and attach it. Now, the hard part is done. No cutting of the material should be required when installing.

Match number on template with panel number & hang it.